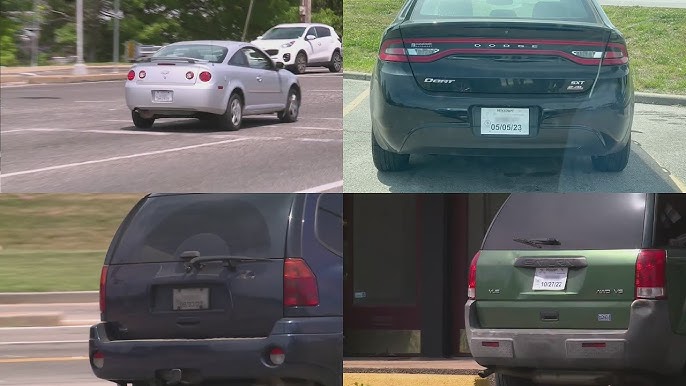 "Grace Period" is the space between the day your tag expires and when it officially becomes illegal to drive around without renewing the expired tag. Therefore, is there a grace period for expired tags?
There is a grace period of 15 – 30 days for expired tags but not in all states. While some states do not have a grace period for expired tags, some states do which differs from states to state. You are however expected to renew your tags within 90 days before the expiration.
Normally, tags are supposed to be renewed before the current one expires but because people can be caught up in their jobs or even forget sometimes, that's why there's a grace period.
Grace periods are like second chances that are given to drivers or car owners so they can do the right thing and avoid being penalized.
Is There a Grace Period for Expired Tags?
Yes, there is a grace period for expired tags, although not everywhere. However, for states that do have a grace period for expired tags, the duration differs.
The grace period buys you more time to go online, by phone, or by mail, or find your way to the nearest DMV office and renew your tags to avoid being cited.
There are a few states where there is no grace for expired registration but there's a larger percentage of states where there's a grace for expired tags.
In Oregon, the grace period for expired tags is 30 days after which any defaulter would be penalized for driving with expired tags.
In NC, the grace period is 15 days during which you're expected to have renewed your expired tag. Although you'd not be given any ticket or asked to pay any fine, you will still pay an additional lateness fee for renewing before the expiry date.
| | |
| --- | --- |
| State | Grace Period |
| Ohio | 30 Days |
| North Carolina | 15 Days |
| Oregon | 30 Days |
| Texas | 5 Days |
Is There a Grace Period for Expired Tags in Texas?
Yes, there is a grace period of 5 days for expired tags in Texas. The Texas law gave you 5 days grace period to renew your registration at Texas Government official website after which you will receive a receipt that allows you to drive legally for 31 days until the sticker is available and sent to your mail.
For How Long Should You Drive with Expired Tags?
Driving with an expired tag is considered a non-moving violation so, you are not supposed to drive with expired tags at all. As the word implies, it is expired, it's no longer valid and should be renewed.
Driving with expired tags does not become an offense until the grace period elapses in cases where the state allows a grace period but in places where it's not allowed, you should not drive once the tag is expired.
However, it is expected that you renew your tag before the expiry date so you don't have to drive with an expired tag at all. The Department of Motor Vehicles (DMV) usually sends out a notice 45-60 days before the expiration date of your tag.
If you're driving with an expired tag for the first time and you get pulled over by a police officer, you would not face criminal charges but you might still be fined. You risk getting a ticket, which means you can get a ticket for driving with expired tags/registration.
However, if it's not your first time and your tags have expired for over 6 months you might be requested to appear in court and may pay a fine of up to $500.
What Happens After the Grace Period?
After the grace period has passed, if you are stopped by an officer, even if it's not for the tag, as long as he finds out your tag is expired, you will have to pay a fine.
You don't even have to be in the car or be driving the car, even if your car is parked, an officer can run your license plates to see if your car's tag is up to date and if not, you can be fined.
If you continue driving without renewing your tags even after you have been fined and given other warnings, an arrest warrant may be issued and you may spend some time in jail.
It is very unlikely that the police would come to your house and take you away, but if you're pulled over and you have unpaid fines and an expired tag, you can be arrested.
Some states would require you to appear before a court. Before the court appearance, you should have paid for tag renewal because you would be asked to present proof that you've corrected the issue.
When you are driving with an expired tag after the grace period, you can be fined by different officers every time you're stopped, there's a chance you can talk your way out of it if you're by explaining you just received a fine and you intend to fix the problem as soon as possible.
What are the Benefits of Renewing your Tags?
When you Renew your tags before their expiry dates here are a few things that you benefit from;
Save More Money: When you pay the fees for your tag renewal on time, you save yourself from spending more on multiple fines, lateness fees, etc.
Spend Time Doing Other Productive Things: Driving with an expired tag can cause your car to be cited which means you'll be requested to appear before a court and spend time there when you could be doing other things.
Avoid Getting Arrested: Not paying your fine and not renewing your tag while you're still driving is an offense that can get you an arrest warrant and even a few days in jail.
Avoid Your Car Getting Impounded: If your tags have expired for 6 months or more and you haven't renewed them, your car may get impounded which will require you to pay extra fees to get your car out of impound.
Final Thoughts
Regardless of how occupied you might be, you should make out time to renew your car tags, you could mark the expiry date on a calendar and put it somewhere.
By renewing your tags early enough, you'd save yourself a lot of time and money. Your mind would also be at rest while driving, and you won't be trying to evade police officers.